Veruca James in strict rope
bondage tied up and double
penetrated by big dick,
pounding anal! | Veruca James


Nov 25, 2014




Dark haired beauty tightly tied and double penetrated in pussy and ass by two cocks

The punishing conclusion of Veruca James's live BaRS show! We have used her hard in all her holes and fucked her limp. Veruca long ago lost the ability of coherent thought. She is cumdrunk and completely blasted into sexual subspace. There is only one thing left to do with this well fucked bag of holes...stuff her pussy and ass full of hard cock at the same time until her brains melt.

We do a quick bondage tutorial on Veruca's flawless breasts before positioning her on our fuckbed. At all times, this lucky slut will be full of dick. Her mouth, pussy and ass are used in rotation, using whichever hole we so desire. This is what she was put on the planet to do. Epic drooling deepthroat, pussy pounding and brutal punishing anal on huge black dick.

She loves it. We stuff her like a turkey as her eyes roll into the back of her head. She cums hard and fiercely as the cocks take her pussy and ass simultaneously. Veruca is ragdoll fucked without mercy all over the bed. Her hair hangs in a tangle, her makeup is destroyed and she is covered in her own drool and sweat. The pretty porn star that first stepped foot on our stage is long gone. In her place is a sexual animal. We love the honesty of her destruction. Always a pleasure Veruca!



Pale stunner Veruca James
bound with belts, gagged and
assfucked without mercy by
BBC! | Veruca James


Nov 18, 2014




Sexy brunette strictly gagged and bound then assfucked by huge hard cock

The pace is ramping up and our pale refined starlet is dizzy and dazed. The pacing of BaRS shows are relentless and without mercy. Every position gets harder and more punishing and we are onto part three of our show. We have used Veruca's mouth and pussy, pounding out her holes until they were custom fitted. Time to take the ass.

Bound with belts in a classic fuck me position that keep her toes pointed up towards the ceiling, Veruca's holes are wide open and ready for use. She can not shut her legs on us or escape the dick. A big black ball gag is wedged firmly between those pouty blow job lips. He firmly tied breast look ready to pop and she wears the cock ruined remains of her porn star makeup. We step up and make full use of those tempting holes.

One after another, the hard cocks plunge in balls deep. We take the pussy to start, just because we can not resist, before moving onto the ass. 10 inches of BBC own her hole as Veruca sputters and cums around her ballgag. We add in a vibrator and keep the orgasms cumming. It is a ruthless plundering of her tight ass by big dick.

Today is about an overloading of the senses, orgasms and bondage and dick until Veruca can not remember her own name. In the spirit of that, we rip out another orgasm via finger banging her well used pussy. Veruca cums again as her eyes glaze over. We have one more position left and we are not done with this well fucked starlet quite yet. Stay tuned for part four...

Sexy tattooed deepthroat
expert Veruca James shackled
onto vibrator and used hard by
10 inch BBC! | Veruca James


Nov 11, 2014




Pale submissive bound in strict shackles and facefucked without mercy by two hard cocks

In part two of our fast paced live BaRS show, the destruction of Veruca James continues. This deepthroat expert is already dazed and confused from the dick and we are just getting started. BaRS shows are relentless and fast paced with no mercy, no breaks. Most do not qualify to step foot on the stage, but Veruca most definitely qualifies. She can take a ten inch dick to the face without blinking, Lucky for her, we just happen to have a 10 inch dick here today.

With her pale perfect breasts still tightly bound, Veruca is shackled to a custom made wooden bondage device that keeps her arms stretched high over her head. A vibrator is bolted down in place between her bound thighs. And then it is on. One after another the hard cocks step up and make full use of her mouth as the vibrator does its job on that tight pussy.

Veruca is already a destroyed mess from the first position of her live show, and it is only going to get worse. Drool pours out of her well used mouth hole and coats her breasts, running down to her vibrator simulated pussy. She cums hard and fiercely as her eyes glaze over. 10 inches of BBC slam home balls deep and Veruca takes every inch without protest.

This is only the second position. We are but halfway done. By the time we are done with this one, Veruca will be lucky is she can walk in a straight line. Today is a day she will not be forgetting anytime soon...

Sexy Veruca James restrained
in tight hogtie, brutal breast
bondage and epic messy
deepthroat! | Veruca James


Nov 4, 2014




Pale tattooed beauty hogtied with strict breast bondage and brutally facefucked

Veruca James is the sort of slut anyone would dream of having. Pale, elegant and stunningly beautiful with an eyewateringly epic skill at deepthroating, Veruca is the perfect sexual submissive. She craves the roughest of handling and the tightest of bondage. Only the very best are qualified to do a BaRS live show. Veruca is one of the best. Today is the day we destroy her.

We start off with having our pet strip off and reveal that perfect body. Next we use thin leather strips to bind up those perky breasts into tight cupcakes. That strict breast bondage will come into play in a little while. Then we tie Veruca into a brutal wrists to ankles hogtie and add in a hair tie to finish it off. Veruca is suffering on top of her tightly bound tits and we haven't even started yet. The introduction of 10 inches of BBC into the back of her throat is what sends her over the edge.

What follows is an utter destruction of a bound face pussy. Every thrust sends pressure onto Veruca's bound breasts. The pain keeps her focused as one after another hard cock runs a train on her mouth. Veruca drools and sputters as she takes the dick balls deep. The drool pours out and her eyes glaze over as she spirals gratefully into sexual subspace.

This is only the first scene. BaRS live shows are brutal and relentlessly fast paced. There are 3 more positions to go, and all of her holes to be filled. Enough warmup, time for the main course. We drop Veruca down to her knees and have her assume a slave position, her tongue out and her mouth open, signaling her eagerness for the dick. This one is a keeper, isn't she?
Whatever It Takes | Veruca James
Oct 3, 2014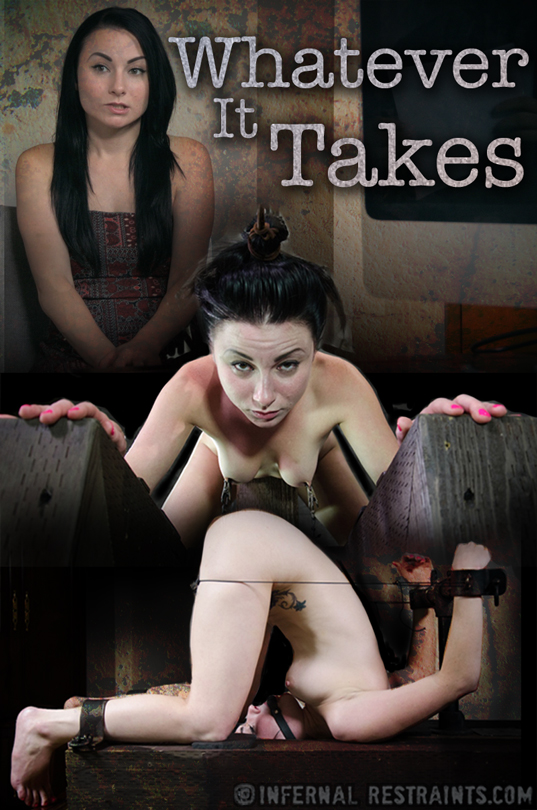 Veruca James NEEDS a job. If she didn't she wouldn't have come to see OT wearing such a sexy, little outfit. She keeps saying the magic words. "I'm willing to do anything. I'll do whatever it takes." She doesn't have any kind of experience in the field, references, or education. If she is planning on making
an impression with HR she is going to have to show off some other skills. A bit of flexibility, an open-mind, and the kind of willingness that only comes from desperation are all a good start, but she better be able to survive the interview if she wants the job.

So here is the deal, Veruca. You have one day to prove yourself. If OT is going to pay you for your time you had better make yourself worth it. Screaming and crying aren't discouraged, but if, at any point, you quit you can just forget about being able to pay your bills. It doesn't matter how humiliating or painful the interview process gets, just remember that every orgasm, cane stroke, or terrifying moment is one step closer to that pay check you so desperately need.